There are many book stores online from which you are able to purchase items.  Are there too many? Is that possible?  Whilst it may not, there is a difficulty for the would-be purchaser in knowing where to go to find the desired tome.  Also, for those lovers of the written and spoken word, especially non-English speaking persons, knowing which books will both educate and entertain, is problematic.
Or so it was until now!
I shall be showing you below those books that I believe are worthy of purchase by you for your English understanding and edification.  There will be links to enable you to make those purchases and brief descriptions of the books themselves.  This will be a growing list but is by no means exhaustible.  I am sure there will be others that readers of this website feel should be included.  Of those I should be happy to receive your recommendations as to what and to why. Click here to leave a comment at the end of this page.
The vast majority of books that I recommend may be purchased through Book Depository (use the link here for general views of books or go to the specific book links that follow).
This link is my affiliate link which means you will be taken to the Book Depository website or to the book itself that you have expressed an interest in.  If you make a purchase through these links I will earn a small commission (hurrah!) so, in advance, thank you.
If this is your first time using the Book Depository website you may like to know that when you arrive at the product page, you should amend the currency to that of your country before adding the book to your basket.
You may continue shopping if you wish to read a little more about the book or purchase other books by adding them to your basket also.  When you are ready to make the purchase(s) click on "Checkout" or "Checkout with Paypal" if you prefer.  At checkout you will be asked to sign-in if you are a returning customer or to complete your details if you are a new customer.  The input your credit card details and your order is complete.  The book(s) will be sent to you completely free of shipping costs.

So, let's begin with a book that whilst being classified as a children's book is in fact a work written by Kenneth Grahame that, as biographer and writer Humphrey Carpenter put it, "The Wind in the Willows has nothing to do with childhood or children, except that it can be enjoyed by the young."  But, surely, suggests critic Peter Hunt "it is a book about small and not so small animals—a Toad, a Rat, a Mole and a Badger (and therefore this must be a children's book). If so, then these are animals who drink and smoke, own houses, drive (and steal) cars, row boats, escape from jail, yearn for gastronomic nights in Italy, eat ham and eggs for breakfast and write poetry—while Toad combs his hair, and the Mole has a black velvet smoking-jacket."
The book begins:
'The Mole had been working very hard all the morning, spring-cleaning his little home.  First with brooms, then with dusters; then on ladders and steps and chairs, with a brush and a pail of whitewash; till he had dust in his throat and eyes, and splashes of whitewash all over his black fur, and an aching back and weary arms. Spring was moving in the air above and in the earth below and around him, penetrating even his dark and lowly little house with its spirit of divine discontent and longing.'
My favourite edition of the book is the following with brilliant illustrations by Inga Moore: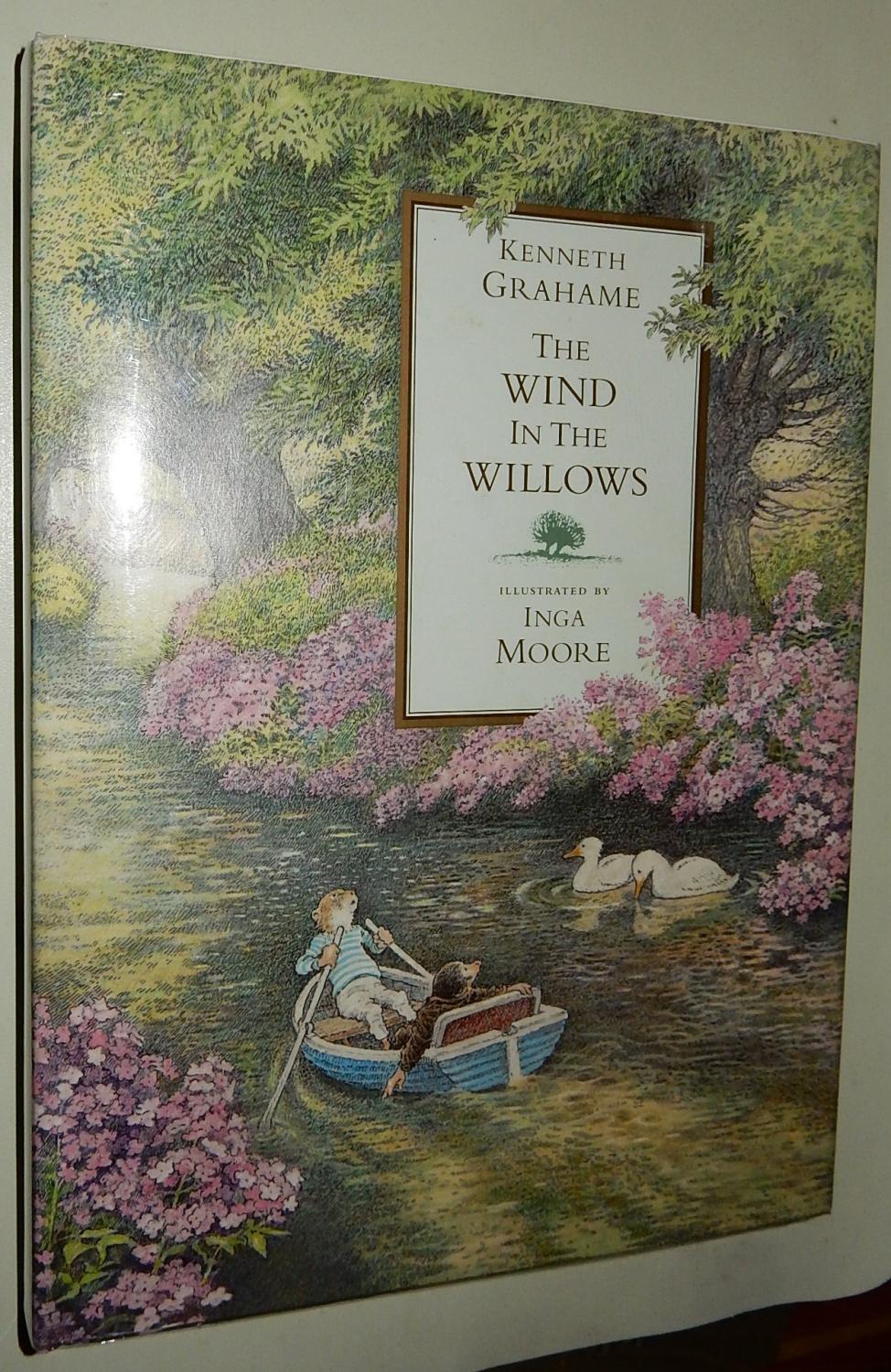 Buy it here: The Wind in the Willows

Staying with the theme of children's literature, there are many good books that could be recommended but by again linking beautiful words with the lovely illustrations of Sir John Tenniel, the book Alice in Wonderland is highly regarded.  It has a magical appeal to both children and adults with imagination.
There is possibly too much Englishness about the story for many non-English people but as I am concerned with that very same English-ness on this website then I am happy to recommend it to you.
'On an ordinary summer's afternoon, Alice tumbles down a hole and an extraordinary adventure begins. In a strange world with even stranger characters, she meets a rabbit with a pocket watch, joins a Mad Hatter's Tea Party, and plays croquet with the Queen! Lost in this fantasy land, Alice finds herself growing more and more curious by the minute . . .'
The book begins:
'Alice was beginning to get very tired of sitting by her sister on the bank, and of having nothing to do; once or twice she had peeped into the book her sister was reading, but it had no pictures or conversations in it, "and what is the use of a book," thought Alice "without pictures or conversations?"'
Again, for sale here: Alice's Adventures in Wonderland

JRR Tolkien said that he wrote the books that form the trilogy, The Lord of the Rings, for his children.  To my mind, this is not a children's story even though it is about elves, wizards and dragons.  The popularity of the book just doesn't seem to wane thankfully and there are always plenty of options available for you to purchase.
This book is, for me, the one book, that if I had to be lost on a desert island, I would want more than any others with me.  It has always had a special place on my shelves and in my heart and for that reason I recommend this to you most earnestly.  Now, there are lots of paperback editions that you could buy and perhaps your budget only allows you to do so but, if it is at all possible, you really should obtain a hardback copy to own and treasure.  Also, it must have illustrations by no one other than Alan Lee.
The book begins:
'When Mr Bilbo Baggins of Bag End announced that he would be celebrating his eleventy-first birthday with a party of special magnificence, there was much talk and excitement in Hobbiton. Bilbo was very rich and very peculiar, and had been the wonder of the Shire for sixty years, ever since his remarkable disappearance and unexpected return.'
The copy I suggest to you is this one:
It is – hold your breath – 1200 pages long (that's why you must have a hardback edition) and contains maps and colour plates that are absolutely superb. It will be the crown in the jewels of your books!
If, for some reason, the book isn't available for purchase an alternative with Alan Lee's illustrations and in a lovely slipcover is:
A further option – and a little cheaper but without the illustrations – is this beautiful edition:
If you decide that none of these is for you then do ensure you buy whatever copy you can to enjoy the sheer brilliance and magic of Tolkien's words.
The Hitchhiker's Guide to the Galaxy is the work of a comedy science fiction genius, Douglas Adams. Originally a 1978 radio comedy broadcast on BBC Radio 4, it became a hugely successful 5-part trilogy.
One Thursday lunchtime, just seconds before the Earth is demolished to make way for an intergalactic hyperspace bypass, Arthur Dent is plucked off the planet by his friend Ford Prefect, a researcher for the revised edition of The Hitchhiker's Guide to the Galaxy who, for the last fifteen years, has been posing as an out-of-work actor.  Together, the pair are thrown out across the galaxy – often by chance – on a trip of absurd misadventure.
The book begins:
'Far out in the uncharted backwaters of the unfashionable end of the Western Spiral arm of the Galaxy lies a small unregarded yellow sun.  Orbiting this at a distance of roughly ninety-eight million miles is an utterly insignificant planet whose ape-descended life forms are so amazingly primitive that they still think digital watches are a pretty neat idea.'
Thomas Hardy's powerful novel of swift sexual passion and slow-burning loyalty, centres on Bathsheba Everdene, a proud working woman whose life is complicated by three different men – respectable farmer Boldwood, seductive Sergeant Troy and devoted Gabriel Oak – making her the object of scandal and betrayal. Vividly portraying the superstitions and traditions of a small rural community, Far from the Madding Crowd shows the precarious position of the modern woman in a man's world.
First published in 1874, the novel is set in Hardy's Wessex in rural southwest England. It embraces themes of love, honour, betrayal, tradition and modernity.  The seemingly idyllic countryside in which it is set hides an often harsh and hard farming lifestyle that must learn to come to terms with change.  Change in farming methods; change in attitudes to women particularly.  The moods which Hardy portrays in the novel make it one of the greatest and most English of his works.
I first saw the movie of Far From The Madding Crowd as a teenager on a rainy day on holiday and I was hooked on Hardy.  I then bought the book which set in motion a lifelong love of his work.
The book begins:
'When Farmer Oak smiled, the corners of his mouth spread, till they were within an unimportant distance of his ears, his eyes were reduced to mere chinks, and diverging wrinkles appeared round them, extending upon his countenance like the rays in a rudimentary sketch of the rising sun.'
Get the Book here
It could be any Agatha Christie book that appears here as they are all extremely good.  Murder On The Orient Express is, along with Death On The Nile, probably the most famous of her novels.
If you are yet to read any of them I heartily recommend them to you.   Most of the stories revolve around that wonderful Belgian sleuth Hercule Poirot but also include the indomitable Miss Marple as well as the wonderful pair Tommy and Tuppence plus others.
Agatha Christie has written sixty-six detective novels and fourteen short story collections.
Just after midnight, a snowdrift stops the Orient Express in its tracks. The luxurious train is surprisingly full for the time of the year, but by the morning it is one passenger fewer. An American tycoon lies dead in his compartment, stabbed a dozen times, his door locked from the inside.
Isolated and with a killer in their midst, detective Hercule Poirot must identify the murderer – in case he or she decides to strike again.
The book begins:
'It was five o'clock on a winter's morning in Syria. Alongside the platform at Aleppo stood the train grandly designated in railway guides as the Taurus Express. It consisted of a kitchen and dining car, a sleeping car and two local coaches. By the step leading up into the sleeping-car stood a young French lieutenant, resplendent in uniform conversing, with a small man muffled up to the ears of whom nothing was visible but a pink-tipped nose and the two points of an upward-curled moustache.'
Definitely worthy of the English word-lover's purchase right here.
What can one say about this giant of English Literature?  Modern readers may find the language a little tough going, but one should persevere, it will be well rewarded.
Charles Dickens was a novelist, journalist, editor, illustrator and social commentator who wrote such beloved classic novels as Oliver Twist, A Christmas Carol – see later, Nicholas Nickleby, David Copperfield, A Tale of Two Cities and my especial favourite Great Expectations. 
Dickens is remembered as one of the most important and influential writers of the 19th century. Among his accomplishments, he has been lauded for providing a stark portrait of the Victorian-era underclass, helping to bring about social change.
Great Expectations traces the growth of Philip Pirrip (Pip), from a boy of shallow dreams to a man with depth of character. From its famous dramatic opening on the bleak Kentish marshes, the story abounds with some of Dickens' most memorable characters.
Among them is the kindly blacksmith Joe Gargery, the mysterious convict Abel Magwitch, the eccentric Miss Haversham and her beautiful ward Estella, Pip's good-hearted roommate Herbert Pocket and the pompous Pumblechook.
"Pip, dear old chap, life is made of ever so many partings welded together, as I may say, and one man's a blacksmith, and one's a whitesmith, and one's a goldsmith, and one's a coppersmith. Diwisions among such must come, and must be met as they come."
The book begins:
'My father's family name being Pirrip, and my Christian name Philip, my infant tongue could make of both names nothing longer or more explicit than Pip. So, I called myself Pip, and came to be called Pip.'
Used in schools the world over as an example of great literature but more importantly as an example of the treatment of racism in the south of USA.
"it's a sin to kill a mockingbird.'
A lawyer's advice to his children as he defends the real mockingbird of Harper Lee's classic novel – a black man falsely charged with the rape of a white girl. To Kill a Mockingbird is a coming-of-age story, an anti-racist novel, a drama of the Great Depression in Southern America.
Through the young eyes of Scout and Jem Finch, Harper Lee explores the conscience of a town steeped in prejudice, violence and hypocrisy is pricked by the stamina of one man's struggle for justice. But the weight of history will only tolerate so much.
The book begins:
'When he was nearly thirteen, my brother Jem got his arm badly broken at the elbow.  When it was healed, and Jem's fears of never being able to play football were assuaged, he was seldom self-conscious about his injury. His left arm was somewhat shorter than his right; when he stood or walked, the back of his hand was at right angles to his body, his thumb parallel to his thigh.'
Get it Here.
Written by English novelist Elizabeth Jane Howard, the Cazalet Chronicles is a saga about the life of a large privileged family from the 1930s to the '1950s.
Beginning in 1937, the Cazalets Chronicles explores the affairs, passions and ambitions of the Cazalet family of Home Place, Sussex. From pre-war through to the Fifties, the three generations of the family experience love, loss, and, ultimately, life-altering change.
The books will break your heart several times over, but they're also full of joy. The Cazalet children, in particular, are a real treat: I'm rarely, if ever, a fan of child protagonists, but Elizabeth Jane Howard is expert at creating believable – and likeable – children with inner lives as complex as any of the adults.
The first book begins:
'The day began at five to seven when the alarm clock (given to Phyllis by her mother when she started service) went off and on and on and on until she quenched it. Edna, in the other creaking iron bed, groaned and heaved over, hunching herself against the wall; even in summer she hated getting up, and in the winter Phyllis sometimes had to haul the bedclothes off her.'
At the last look, the five-set Collection wasn't available, but the individual novels were.  Highly recommended
DESCRIPTIONS OF THE FOLLOWING BOOKS WILL APPEAR HERE SHORTLY
The book begins:
'When I reached 'C' Company lines, which were at the top of the hill, I paused and looked back at the camp, just coming into full view below me through the grey mist of early morning.  We were leaving that day. When we marched in, three months before, the place was under snow; now the first leaves of spring were unfolding.'
The book begins:
'When the First World War came to an end in November 1918, Eton College still seemed firmly rooted in the Edwardian era.'
The book begins:
'It is cold at six-forty in the morning of a March day in Paris, and seems even colder when a man is about to be executed by firing squad. At that hour on March 11th, 1963, in the main courtyard of the Fort d'lvry, a French Air Force colonel stood before a stake driven into the chilly gravel as his hands were bound behind the post, and stared with slowly diminishing disbelief at the squad of soldiers facing him twenty metres away.'
The book begins:
'Domestic tranquillity prevailed.  Flavia Petrelli, the reigning diva of La Scala, stood in the warm kitchen and chopped onions.'
The book begins:
'"Marx has completely changed the way I view the world," declared the Pallieres boy this morning, although ordinarily he says nary a word to me. Antoine Pallieres, prosperous heir to an old industrial dynasty, is the son of one of my eight employers.'
The book begins:
'"Let's wait just a bit longer, please," said the girl in dark-blue trousers and the light summer coat. "I'm sure there'll one due pretty soon." She wasn't quite sure though, and for the third time she turned to study the timetable affixed in its rectangular frame to Fare Stage 5. But her mind had never journeyed with any confidence in the world of columns and figures, and the finger tracing its tentatively horizontal course from the left of the frame had little chance of meeting, at the correct coordinate, the finger descending in a vaguely vertical line from the top.'
The book  begins:
'It was half-past twelve when I returned to the Albany as a last desperate resort. The scene of my disaster was much as I had left it. The baccarat counters still strewed the table, with the empty glasses and the loaded ash-trays. A window had been opened to let the smoke out, and was letting in the fog instead. Raffles himself had merely discarded his dining jacket for one of his innumerable blazers. Yet he arched his eyebrows as though I had dragged him from his bed.'
The book begins:
'I dreamed I was riding in a race. Nothing odd in that. I'd ridden in thousands. There were fences to jump. There were horses, and jockeys in a rainbow of colours, and miles of green grass. There were massed banks of people, with pink oval faces, indistinguishable pink blobs from where I crouched in the stirrups, galloping past, straining with speed.  Their mouths were open, and although I could hear no sound I knew they were shouting. Shouting my name, to make me win.'
The book begins:
'No one would have believed in the last years of the nineteenth century that this world was being watched keenly and closely by intelligences greater than man's and yet as mortal as his own; that as men busied themselves about their various concerns they were scrutinised and studied, perhaps almost as narrowly as a man with a microscope might scrutinise the transient creatures that swarm and multiply in a drop of water.'
The book begins:
'On the evening of May 3, 1827, the garden of a large red-brick
bow-windowed mansion called North End House, which, enclosed in spacious grounds, stands on the eastern height of Hampstead Heath, between Finchley Road and the Chestnut Avenue, was the scene of a domestic tragedy.'
The book begins:
'Marley was dead, to begin with – there's no doubt about that. He was as dead as a doornail. Marley and Scrooge were business partners once. But then Marley died and now their firm belonged to Scrooge, who was a stingy and heartless old man. Once upon a time, on Christmas Eve, old Scrooge sat busy in his office. It was very cold outside and in Scrooge's office it was not much warmer either. Suddenly, a cheerful person entered the office. It was Scrooge's nephew.'
The book begins:
'Last night I dreamed I went to Manderley again. It seemed to me that I was passing through the iron gates that led to the driveway. The drive was just a narrow track now, its stony surface covered with grass and weeds. Sometimes, when I thought I had lost it, it would appear again, beneath a fallen tree or beyond a pool formed by the winter rains. The trees had thrown out new low branches which stretched across my way. I came to the house suddenly and stood there with my heart beating fast and tears filling my eyes.'
The book begins:
'It is a truth universally acknowledged, that a single man in possession of a good fortune, must be in want of a wife.'
The book begins:
'One morning, as Gregor Samsa awoke from anxious dreams, he discovered that during the night he had been transformed into a monstrous bug.'
The book begins:
'It was love at first sight.  The first time Yossarian saw the chaplain, he fell madly in love.'
The book begins:
'It was a bright cold day in April, and the clocks were striking thirteen.'
The book begins:
'He was an old man who fished alone in a skiff in the Gulf Stream and he had gone eighty-four days now without taking a fish.'
The book begins:
'My suffering left me sad and gloomy. Academic study and the steady, mindful practice of religion slowly brought me back to life. I have kept up what some people would consider my strange religious practices.'
The book begins:
'High, high above the North Pole, on the first day of 1969, two professors of English Literature approached each other at a combined velocity of 1200 miles per hour.'
The book begins:
'If I have learned anything in this long life of mine, it is this: In love we find out who we want to be, in war we find out who we are. Today's young people want to know everything about everyone.'
The book begins:
'The day had gone by just as days go by. I had killed it in accordance with my primitive and withdrawn way of life. I had worked for an hour or two and perused the pages of old books. I had had pains for two hours, as elderly people do.'
The book begins:
'I am in all truthfulness attempting to be cheerful about this whole topic, though most people find themselves hindered in believing me, no matter my protestations. Please, trust me. I most definitely can be cheerful.'
The book begins:
'The culminating celebrations of what was to be called 'the greatest enterprise of its kind in history' took place in 1928—and on Wednesday 6 June of that year, the date when this majestic phrase was first spoken, in England it was Derby Day.'